This weekend I had the pleasure of taking a little trip to San Diego to see Wicked at the Civic Theater.  I had seen it a few years ago in LA, but it is definitely worth seeing more than once so when my mom said they were going I tagged along!

It was a matinee so we stopped for a quick bite in downtown SD beforehand at one of our favorite spots Extraordinary Desserts.  Usually we visit the Banker's Hill/Balboa Park location which serves only dessert, but we decided to hit the Little Italy location this time which has a savory menu as well.   I ordered the Serrano Ham Panini with buffalo Mozarella, balsamic onions and a red plum conserve.  It also came with a small pilaf salad as well.  John had the salmon panini and we both ordered their specialty drinks.  Mine was a passionfruit with simple syrup and sparkling water, and his was a Kiwi concoction which they say is their specialty.  The food was beautiful…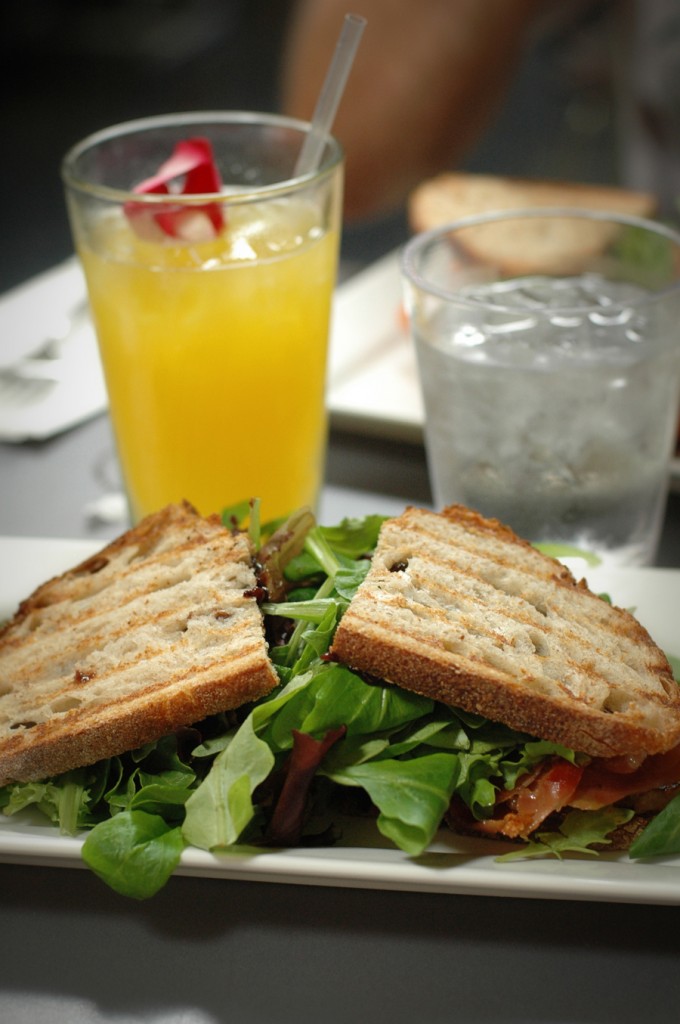 but unfortunately looks can't make up for taste.  It was supe tough and didn't taste all that great.  About the only thing I would order again is the kiwi drink…that was good.
But, who really cares about the food all that much when you're going to a place called extraordinary desserts anyways, am I right??   This is where they really shine.  You know you're in for a  calorie filled experience when you arrive and this is the first thing you are greeted with…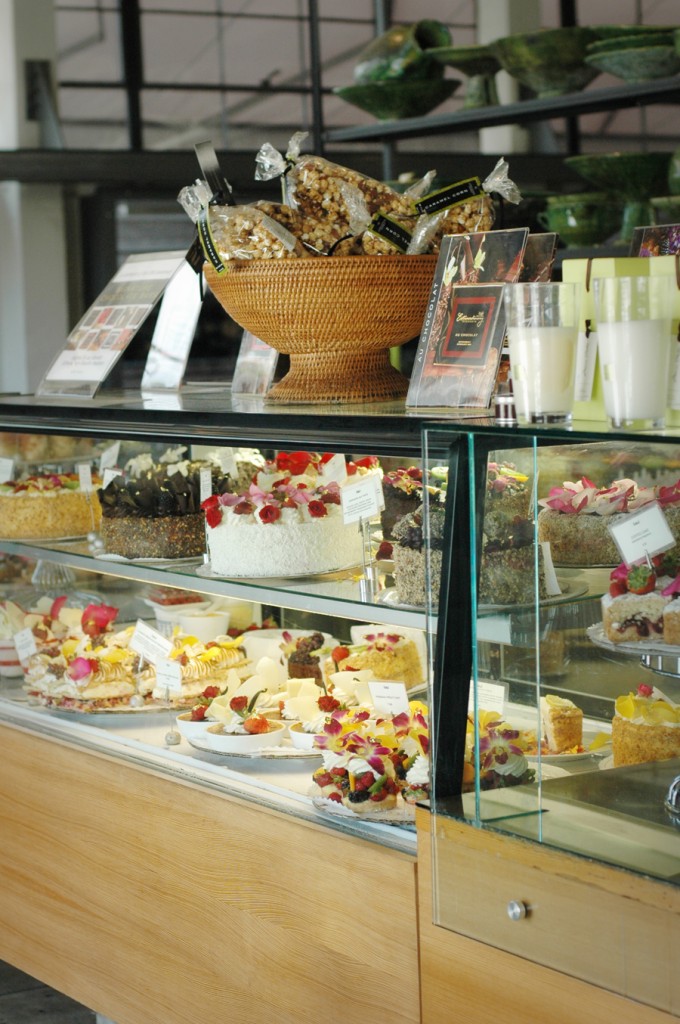 Seriously the most beautiful desserts I have ever seen…mounds of cakes, cheesecakes, tortes, fruit cobblers, brownies, cupcakes, napoleons, you name it they have it and it is covered in gold leaf and edible flowers.  Truly an experience to eat something so beautiful.
Our selections were :
Toasted Macadamia Caramel Cheesecake
Unlike anything you've ever tasted! A rich and creamy cheesecake with a macadamia shortbread cookies crust is covered with homemade caramel and topped with a thick layer of whipped cream.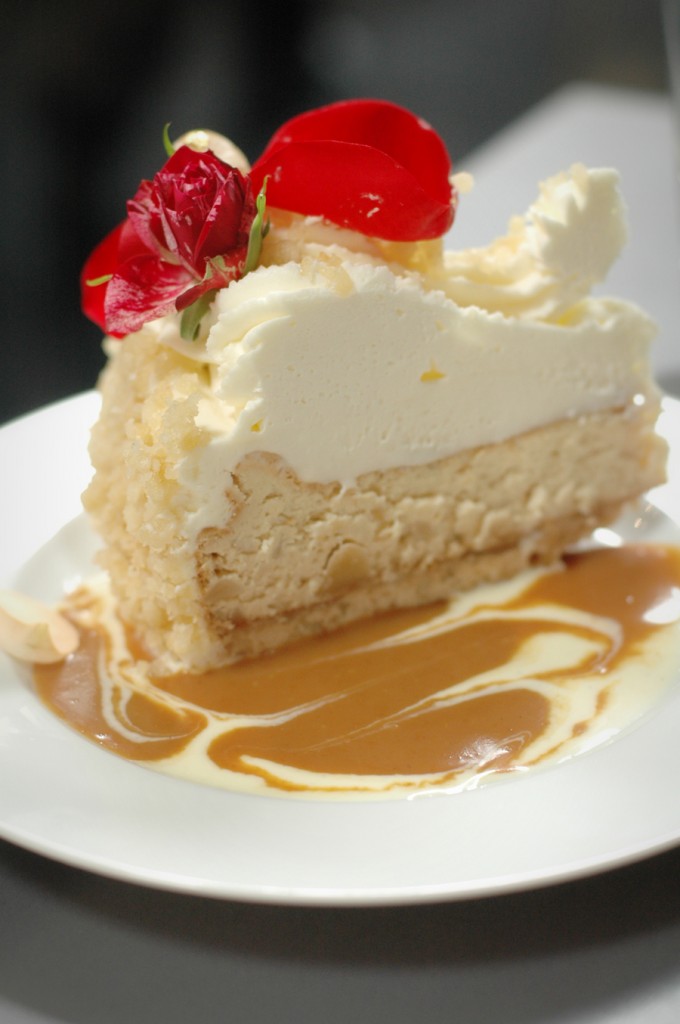 and my personal favorite…
Dulce de Leche
A crunchy milk chocolate confection is hidden between layers of chocolate cake and creamy chocolate mousse. Homemade dulce de leche finishes this over the top chocolate torte.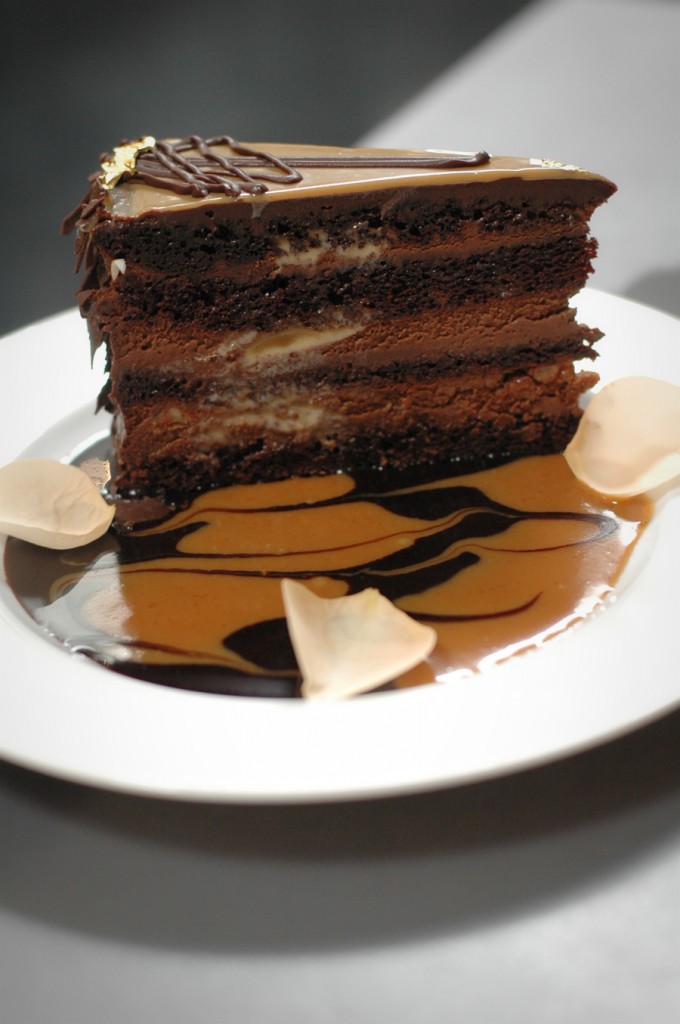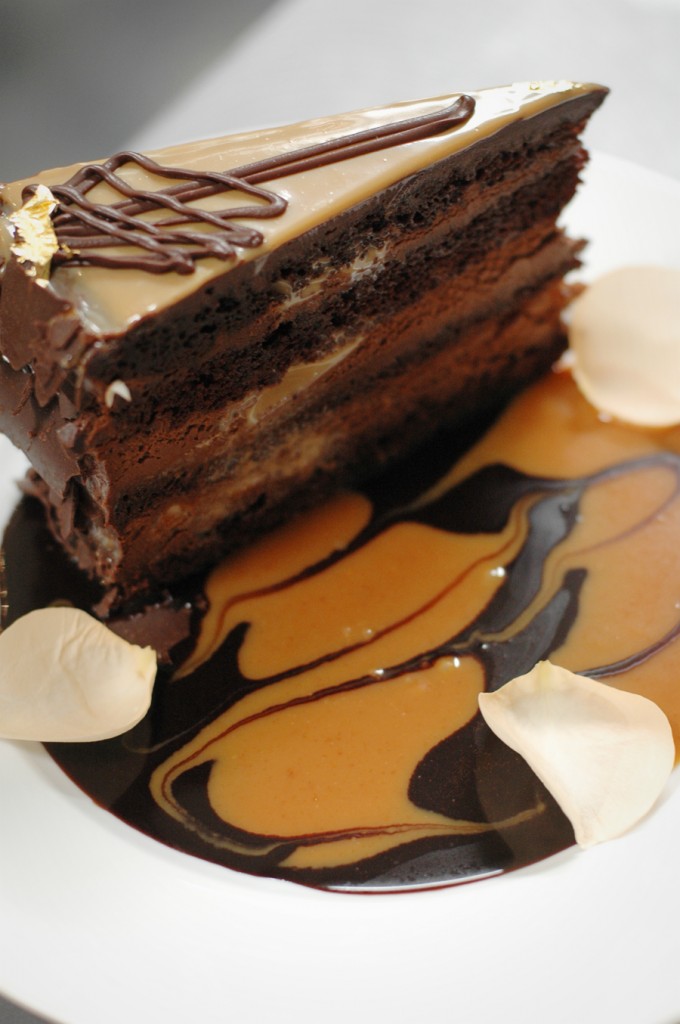 Yes, this one is good enough it needed two pictures!! ;0  So, if you're in the San Diego area and looking for a place to stop for something sweet then this is the place.  Just a warning, on the weekends they are open late to accomodate late night snackers and we have been known to stand in line for as long as 45 minutes to get a seat.  (at least at the banker's hill location)They don't take reservations and the dessert menu changes daily so your favorite might not always be there…but I'm sure you won't have any trouble finding a new favorite!    Prices range between 8-10 dollars on average per dessert but the portions are VERY generous and you can definitely share.
Balboa Park, San Diego
2929 Fifth Avenue, San Diego, CA 92103
Tel: 619.294.2132 | Fax: 619.294.7032
HOURS
Mon – Thu: 8:30am – 11:00pm
Fri: 8:30am – Midnight
Sat: 10:00am – Midnight
Sun: 10:00am – 11:00pm
Little Italy, San Diego
1430 Union Street, San Diego, CA 92101
Tel: 619.294.7001 | Fax: 619.234.7001
HOUR
Mon – Thu: 8:30am – 11:00pm
Fri: 8:30am – Midnight
Sat: 10:00am – Midnight
Sun: 10:00am – 11:00pm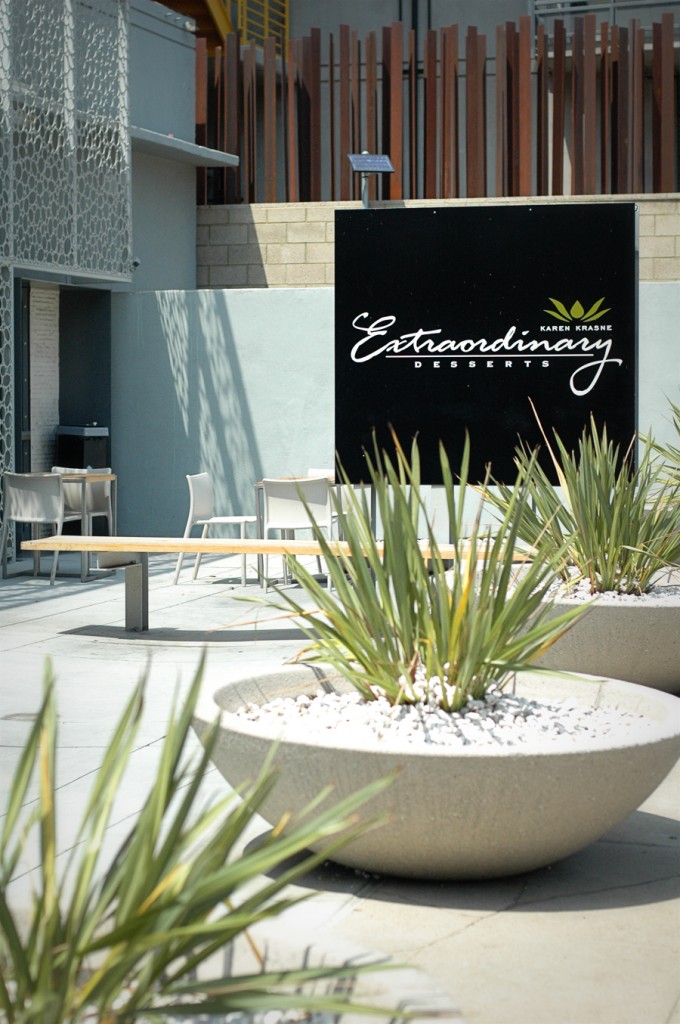 Bon Apetit!
-t