sorry it took me so long to get these up!  I was making them until late last night and had to wait to take a picture today.

  these were created using pillow boxes (the 3.5×5 size), a little satin ribbon, a 1.5 inch circle punch, a 2 inch scallop punch and some goldfish crackers.  you know, a little salty to cut through all the sweets these little ones will be getting.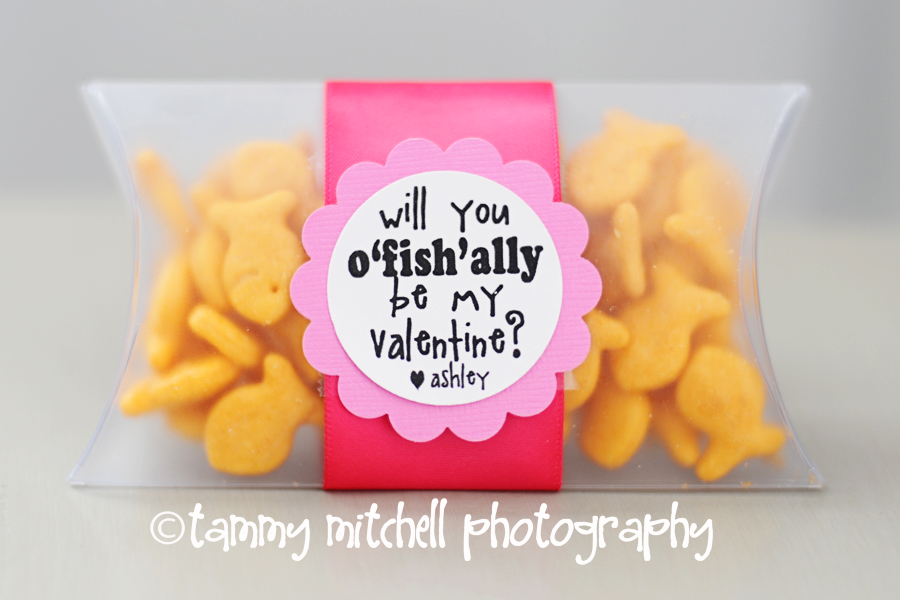 i did use photoshop to create the tag, but you could just as easily do these in word.  simply print them small enough to be punched out by the 1.5 inch circle punch.  i simply cut the ribbon to size, wrapped it around the box and taped it where it would be hidden by the tag.  then i just taped the tags on to the ribbon.  simple and fun!
i love love love the pink and orange combo.  to "boy" these up it would be really cute with a blue ribbon and tag too.  blue and orange is always so striking!
hope you are having fun creating all these handmade valentines!  three days left!!

You can find the pillow boxes in both frosted and clear styles NOW in the shop for 2013.  These FLEW off the shelves last year…so get them now before they're gone!
Clear and Frosted Pillow Boxes
Also, I created a free printable version of the tags for you!!

Find and download them here:
have a great day!
-t