SO, have you hit the "MOOOOOOOOOOOOOOOOOOOOOOOOOOOOOOOOOOOm, I'm SO bored" part of you summer yet?? Now that we're about halfway through ours, I decided that it's time to pull out the old summer advent calendar from last year. Remember this?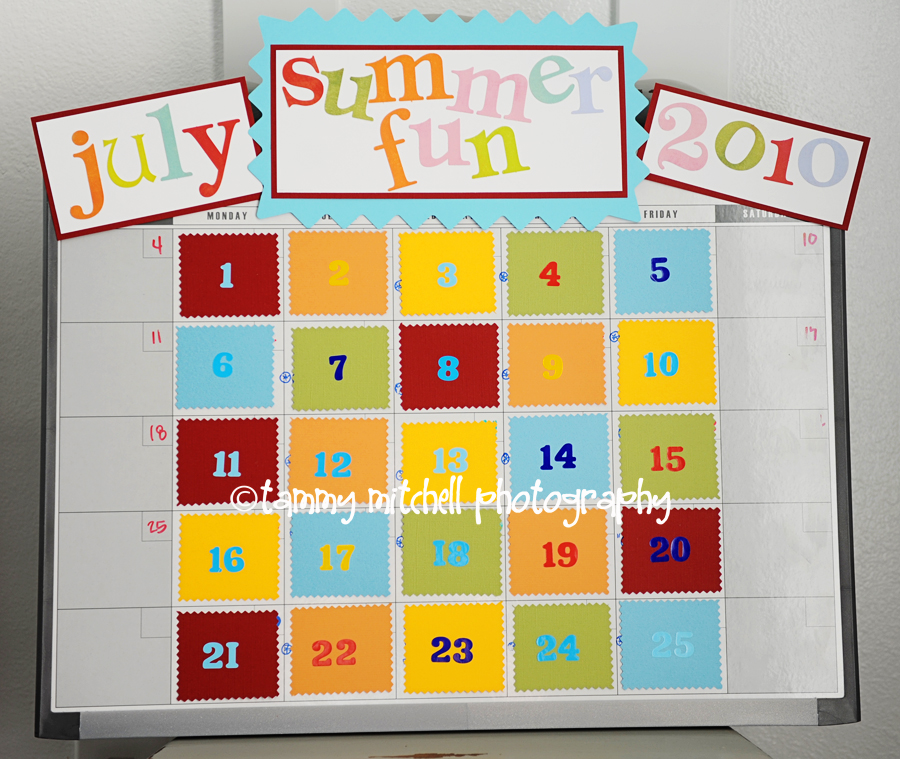 The idea behind it is simple. Give the kids something fun to look forward to everyday…it can be something little that takes 5 minutes, or an all day activity. The key is to mix it up. But, the biggest excitement of all is that it's kept a secret until the day of. They are left wondering each day what the next day's activity will be. So far, so good in our house!

The beauty of it for us moms is that it's totally changeable if something comes up…because it's a SECRET and a WHITE BOARD you can change activities to fit your schedule as unexpected things come up without the kids knowing anything about it! I've also devised a system to prevent arguments between kids as far as who gets to reveal the day's activity. By making the squares with numbers you can assign odd/even days if you have two kids, and by making them different colors you can assign colors for more than two kids!
Here's what you'll need to make your very own:
Dry erase generic calendar (I got mine at walmart)
A dry erase marker
alphabet stickers
number stickers
8 sheets of cardstock (any colors you want)
I think the instructions are pretty clear just by looking at the picture. Just make a fun header and title for it…you can definitely customize the whole thing…it does NOT need to look just like mine that's for sure!

Add your activites under each day, stick your paper on with a piece of tape and wa-la!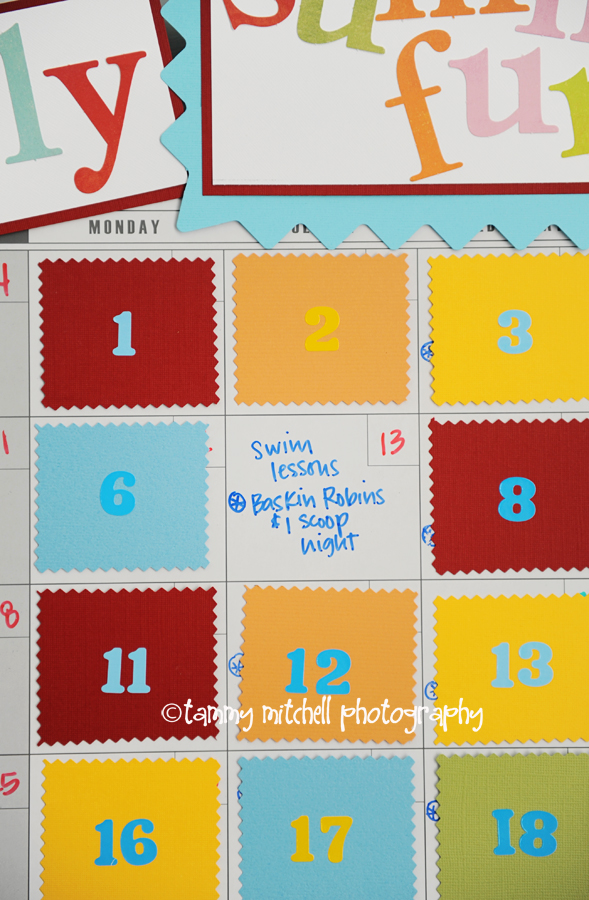 Now…the important part…coming up with the activities. Like I said, some activities may take all day, some may take 5 minutes. The important part is just to give the kids something to look forward to and something that they know they are doing that day to hopefully prevent them from asking you all day!!

I divided my activities up into categories: in the kitchen, crafts, outings, and fun around the neighborhood. I also tried to keep things very inexpensive or free to help keep costs down. Here are some suggesstions to get you started:
make popsicles
get a slurpee
have a waterballoon toss
run through the sprinklers
tissue paper art
corn syrup painting
make ice cream
go to the pool
go to the library
make tin can phones
have a lemonade stand
beach
free movies at the park
dollar tuesdays at Baskin Robbins
silly string fight
bonfire and smores
bowling
sprinkler park
make a fort
have a picnic
movie night
play a game
water guns
make iron on shirts
that's enough to get you through a whole month!! (I only did M-F since we often have other things going on on the weekends) The best part is you can repeat many of these things! Who doesn't want to have a waterballoon toss or go to the pool more than once during the summer???

Hopefully this will help make your summer fun and easy and minimize the curse of summertime boredom!!


You can always throw in a few favorites that are a little more elaborate too, like one of my kids favorites…an afternoon at Chuck E Cheese!

I would love to hear fun ideas for things that you find in your community. Leave a comment with any suggestions you have here on this post so we can help each other come up with stuff!!

Have a great day!
-t