I can't believe the week is already here!!  I LOVE Thanksgiving.  I love the calm before the storm (Christmas craziness!!)  I think that's why it drives me crazy that we are already having tree lightings and Santa sightings…PEOPLE we haven't even had Thanksgiving yet!!!

I really want my kids to appreciate Thanksgiving for what it is and understand how important it is.  Most of you have kiddos at home ALL week before Thanksgiving, so I wanted to share with you some fun ideas of things to do with your kids for the week leading up to teach them a little more about this great Holiday.  I LOVE to have a special feast just with the kids.  They think it is just the most fun and look forward to it every year.  Here are a few things to give you ideas of what you can do to re-create this tradition with your own kids…
Have you heard of the "If you were there" books?  They are the BEST for kids!  If you get a chance this week run to the library and check it out…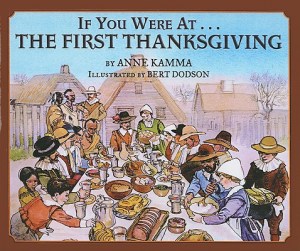 How many Pilgrim children were at the First Thanksgiving?  Did they have to take baths to get ready for the big celebration?  If you were there, would you have eaten turkey?  What about cranberry sauce?  Pumpkin pie?  This funbook answers all kinds of great questions for curious kids. 
We have fun having the kids prepare for their feast.  One way to do this is to make woven placemats out of paper.  They have fun weaving and decorating them, and then they get to use them the day of the feast!  They also love making their hats and indian vests out of paper bags.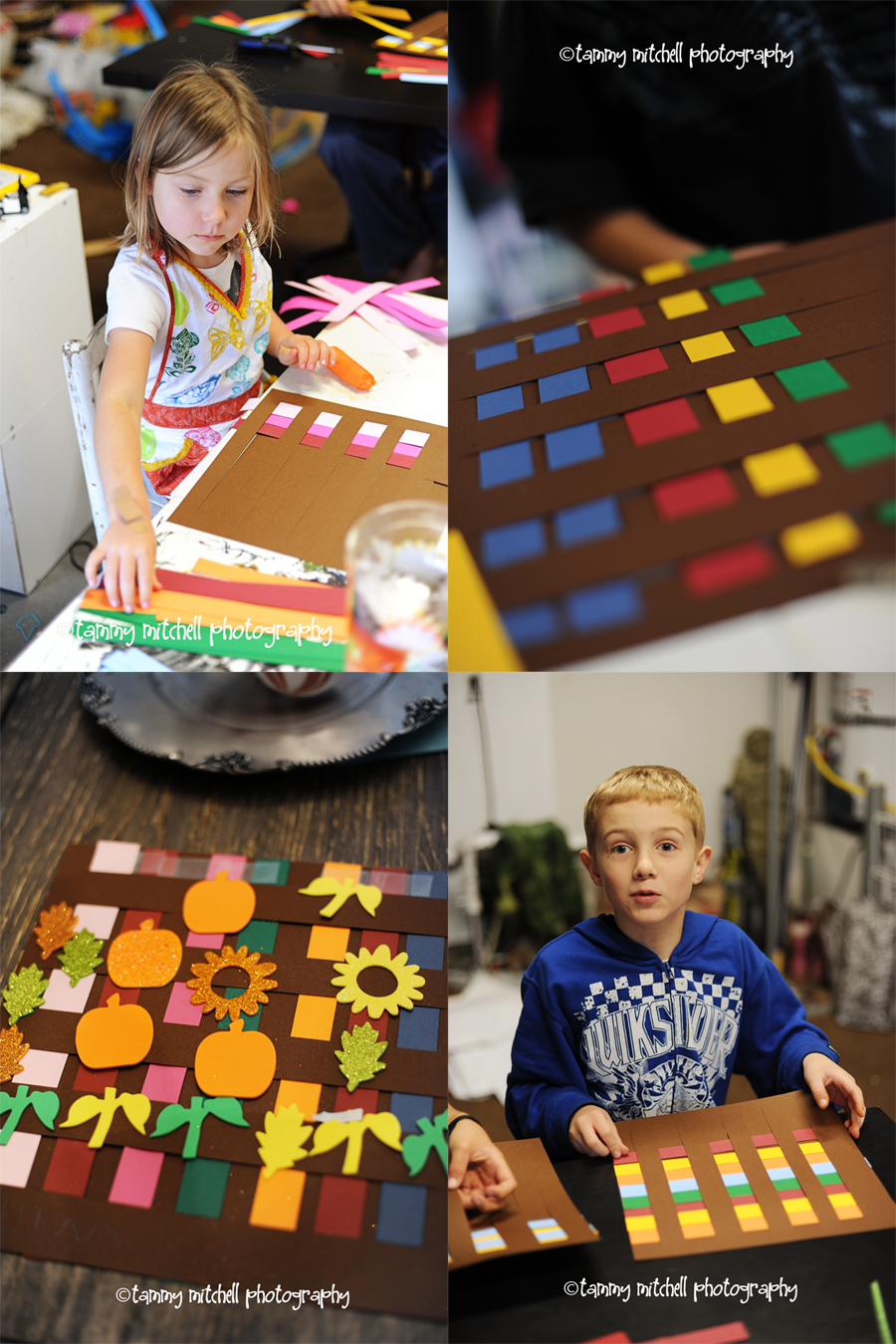 Indian fry bread is a Navajo tradition, so not really traditional Thanksgiving fare…but the kids still think it's fun and it has to do with Indians, so we'll do this one day for breakfast:
INDIAN FRY BREAD
 

Read more about it at www.cooks.com/rec/view/0,224,156181-224203,00.html
Content Copyright © 2011 Cooks.com – All rights reserved.

1 pkg. dry yeast
3 cups warm water
1 tbsp. sugar
1 tbsp. salt
6 cups flour
2 tbsp. oil
1/2 cups cornmeal

Dissolve yeast in warm water (110°F). Stir in sugar and salt. Set aside for 5 minutes to allow yeast to foam. Add flour and oil; stir flour into liquid mixture.Turn dough out onto a lightly floured work surface and knead until texture is smooth (about 5 minutes).

Put dough into greased bowl, cover, and allow to rise until doubled in size (about 90 minutes).

When doubled, punch dough down and knead in 1/2 c. cornmeal. Knead until smooth (about 3 minutes).

Separate dough into two balls. Work with one ball at a time. Cover resting ball with towel. Roll dough into 12 inch diameter circle, 1/2 inch thick. Cut into 2 inch squares.

Let pieces of dough rest while oil heats in an iron skillet to the boiling point (about 365°F).

Fry 5 to 6 pieces at a time until golden brown, just a few moments. If there are leftovers, warm for breakfast and shake in powdered sugar.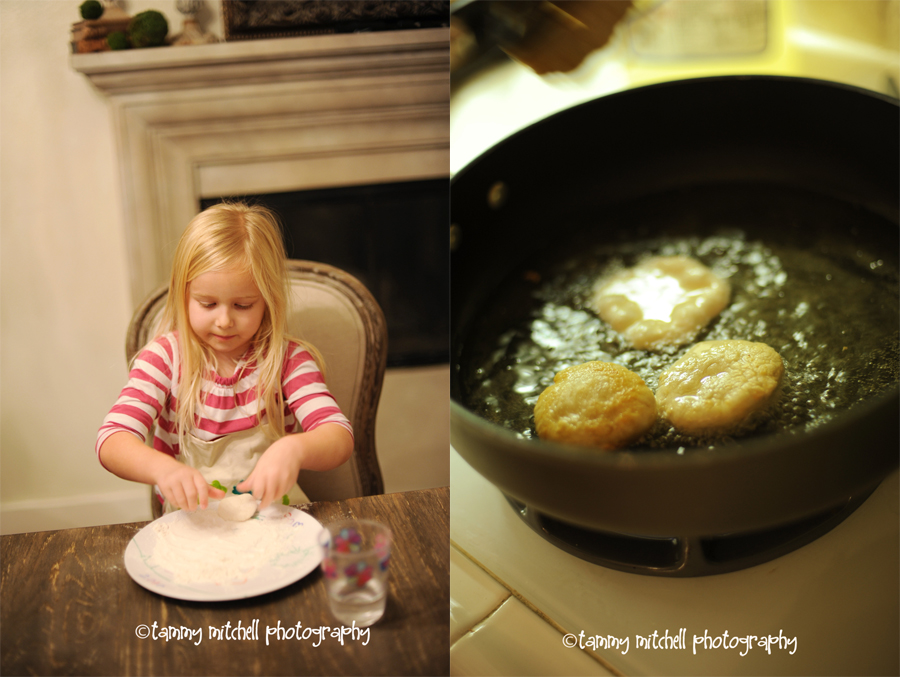 The day of the feast is all about fun.  But, I also like to have a discussion with them about the things we've learned about the pilgrims and indians over the course of the last few days.  One of the things that the kids learn is about how hard life was for the pople that lived at that time and how they had to make everything they needed themselves.  Some fun things to learn and incorporate into your feast are that the pilgrim children had many many chores that they had to complete to help with the meal, and that they were the last to eat… after the adults.  They also couldn't talk duing the meal, or sit down.  The seats were reserved for the adults.  Also, they had to eat with their hands.  Try adapting some of these rules into your feast so the kids can get a feel for a little bit of what life might have been like for pilgrim kids.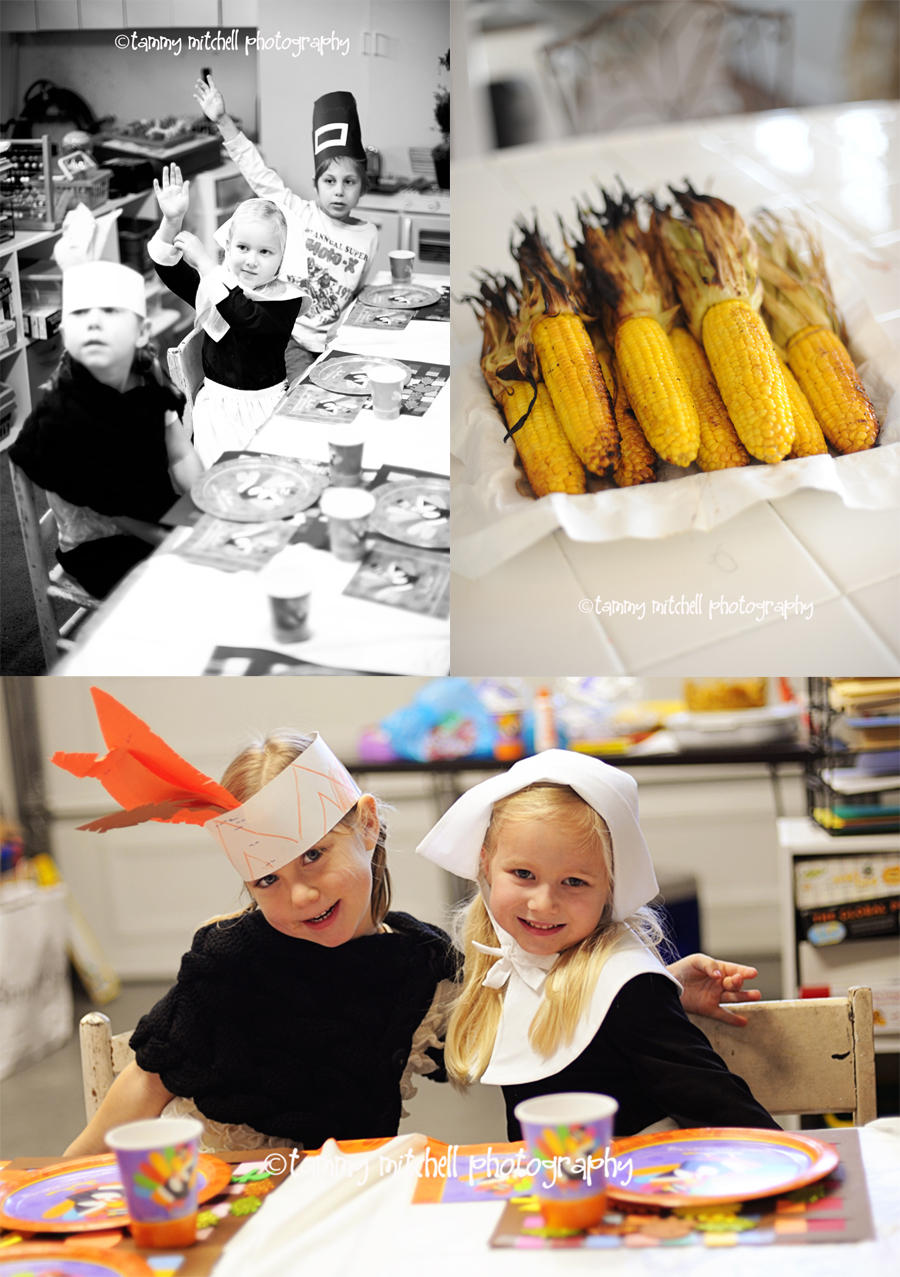 One of the chores I had the kids do was to make the butter for the cornbread.  This was easy with jars and cream and salt.  They each got a jar and had to shake it until they had butter to use for their meal.  It was hard work doing all that shaking for 10 minutes but it was also a lot of fun.  Here's an easy how-to: (baby food jars work really well for small batches.)
Prep Time: 10 minutes
Total Time: 10 minutes
Ingredients:
Heavy cream
A Jar with a lid
Preparation:
1. Fill a jar halfway with heavy cream (baby food jars work great for small batches), and screw the lid on tight.
2. Shake the jar up and down until the cream thickens and begins to stick together.
3. Then, open the jar, and pour any remaining liquid into another container; this is the buttermilk. Everything else is butter.
4. Knead the butter under cold running water for several minutes to work out any remaining buttermilk (otherwise the butter will spoil quickly).
5. Knead in salt, if desired.
6. Refrigerate.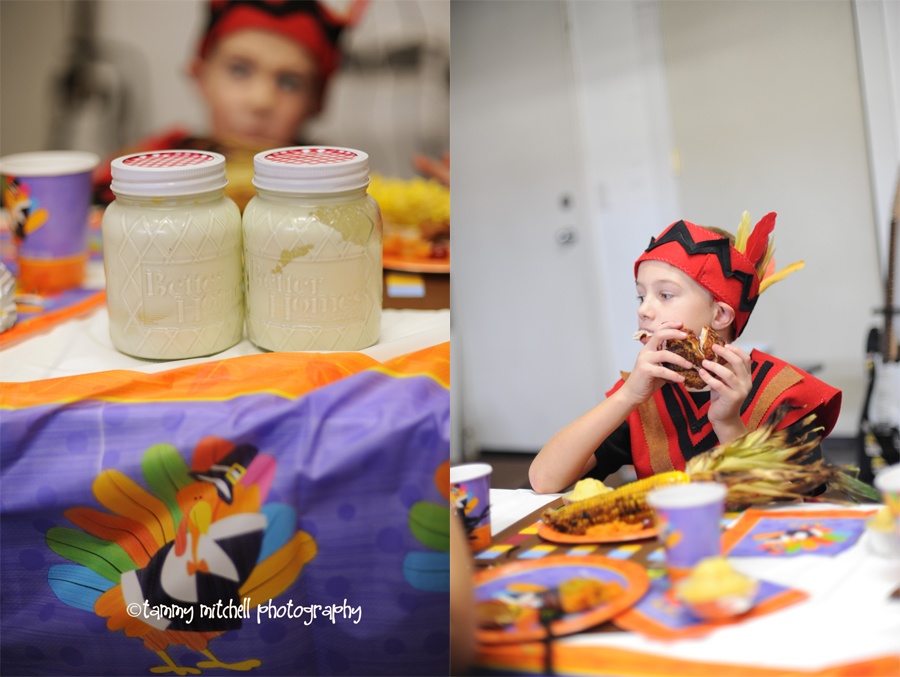 Here are a few things to try when you have your Thanksgiving feast to make it a little more authentic:
Hasty Pudding  (keep in mind that they probably didn't have sugar, so the maple syrup is more likely authentic)
This pudding recipe was originally brought over
from England was called "Indian Pudding" when it
was made in Colonial America since cornmeal was
cheaper and more readily available.  As a British
dish, it was a quick pudding to make using a
sweetened porridge made from flour, tapioca or
oatmeal and milk.  Here the recipe was transformed
to use local ingredients — cornmeal, molasses or
maple syrup and milk.  But because it uses
cornmeal, it's anything but "hasty" since it requires
2 hours to bake.  But the wait is worth it!  If you
want to be truly authentic, serve as an appetizer.
2 cups milk
2 cups light cream
3 tablespoons stone ground yellow cornmeal
½ cup brown sugar
½ cup maple syrup
1 tablespoon butter
1 teaspoon cinnamon
1 teaspoon ginger
½ teaspoon salt
1/8 teaspoon nutmeg
Pinch ground cloves
1/8 teaspoon baking soda
2 eggs, beaten
In a heavy pan scald milk and cream.  Gradually
sprinkle with yellow cornmeal and bring to a boil,
stirring briskly.  Stir in sugar, maple syrup, butter
and all the other dry ingredients.  Let the mixture
cool slightly.  
In a small bowl beat the eggs with the milk/cream
mixture.  Pour the batter into a buttered 1 ½ quart
baking dish and bake in a moderately slow oven
(325 degrees F) for 2 hours.  
Serve hot or warm with whipped cream or ice cream
if desired.

We have dried berries and fruits, nuts and other foods that were likely served in place of many of the things we eat today. 
Another fun thing you can do if you don't want to do a full blown feast  is round up the neighborhood kids and have them each bring something to share.  Sit all the kids on a blanket with some paper plates and they can each go around and give each child some of the food they brought to remind them of how Thanksgiving is all about sharing the harvest and the bounty that the Lord has blessed you with.  It's easy and fun.  You can read from the "If you were there"  book, too!
It is loads of fun and the kids (and I) have learned a ton!!  I hope you are able to fit a couple of these fun activities into your busy week and make some fun meomories with your kids!!

Have a great day!
tammy