Well, valentine plans must be in full swing!!  I am aware that these have been getting a "little" attention on pinterest and craftgawker due to the number of emails I've been receiving regarding the frosted pillow boxes.   :)  So, good news!!  You can now purchase both the frosted and clear pillow boxes in the shop: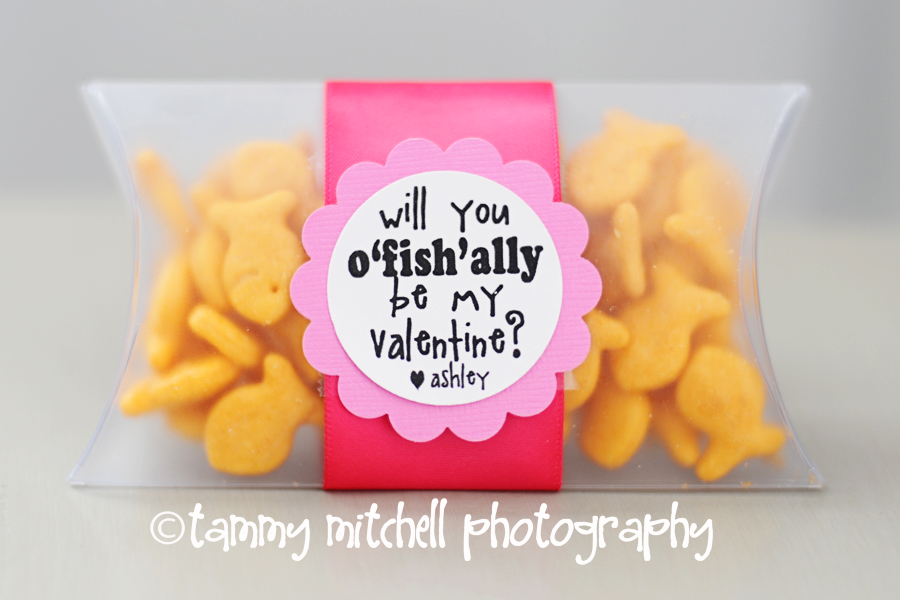 These were created using frosted pillow boxes (the 3.5×5 size), a little satin ribbon, a 1.5 inch circle punch, a 2 inch scallop punch and some goldfish crackers. you know, a little salty to cut through all the sweets these little ones will be getting.

To make them easier to create I will also provide a free download for the tag, how does that sound??

  That means all you need to pick up is some fun ribbon,  and the fish!

  If you wanted to do them as candy valentines they woud also be fun with swedish fish. 
i love love love the pink and orange combo, but to "boy" these up it would be really cute with a blue ribbon and tag too. blue and orange is always so striking!  I will make the free printables in an orange option and a pink option so you don't even have to go the extra step of buying colored cardstock to put under your white tag if you'd like. 

  You will be able to just punch them out with a 3″ scallop or circle punch and ta-da!
You can find the free printable for these tags to download here:
I hope you have  fun creating all these handmade valentines! 
have a great day!
-t