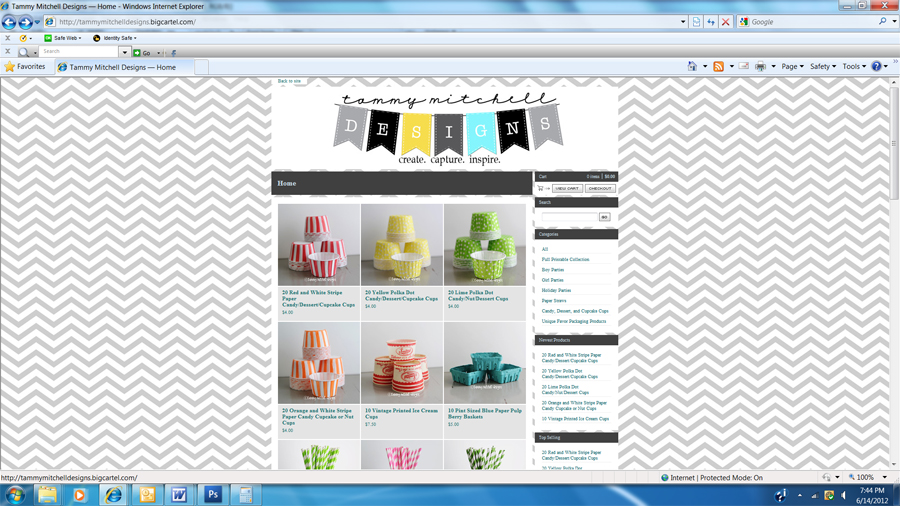 Looking for the perfect party accessories, decorations printables or unique favors?  Well, now there is a one stop shop!  I have been working hard to collect and create unique and interesting party decorations, packaging, favor supplies, display pieces, printables etc.  Over the last month or so I have been traveling around the country visiting ecletic boutiques, specialty shops and antique malls working to put together a fun collection of items you can now find in the shop!!  WooHoo!!  I was going to wait to introduce you to The Party Shoppe until I had everything loaded, but I just couldn't…so pardon our dust while we take the next moth or so to load everything in, but there are already some fun things to be had!  Paper straws in 15 colors, polka dot candy cups, berry baskets…the list goes on.   Soon there will be another exciting addition with a new vintage rentals section.  Those of you planning weddings, parties, photo shoots etc. here in the Orange County area will be able to choose from my carefully curated collection of unique props and antiques.  Be on the look out as I may add some of these one of a kind peices to the shop on occasion too!

Thank you for your support of TMD.  I love creating and sharing with all of you and I am excited to expand the possibilities here on the site.

To celebrate I would love to give away a $25 gift certificate to the shop. 
To enter, head on over to FB and like the Pink Peppermint Prints/ Tammy Mitchell Designs page.  Leave a message on the wall and you'll be entered.  If you'd like an extra entry you can tweet and/or FB about the giveaway and you'll get an extra entry or two.  Just be sure to let me know so I can add your extra entries!

I'm so excited!  You can find the link to The Party Shoppe on the Menu bar at the top of the site, or head on over with this link to check it out:
Have a great weekend!
Tammy