Oh, the blog.  It has been pretty neglected lately and I apologize!   I LOVE keeping up this blog (as you can probably tell since I'm in my 7th…yep 7TH year of blogging!) but I get frustrated because a lot of times these days I just run out of time!  I have so many different projects going on all the time that I'm anxious to share…but then only about 5% actually ever make it here.

  I am making a renewed effort to share more!  I have some fun things coming up…birthday season in our house, client parties, a few interior design projects for myself and clients…the list goes on and on and I LOVE it!

  I have been finding it a bit easier to keep up with my facebook page on a daily basis with a few fun things each day…so if you don't hear from me here, be sure to stop by and say hi over there to see what's going on.  TAMMY MITCHELL DESIGNS FACEBOOK
One of the projects I am most excited about is a little home renovation here at my house.

  I'll be sure to share the before and after when all is said and done in a few months…it's nothing major, just giving things a little facelift.

  But I do want to share a few things, tips and tricks that I do along the way as I am working on finishing things.  First up…a little something I was inspired by on a trip to my absolute favorite place on earth…HomeGoods.   I have a new metal side table with an antiqued mirror top.  I have stacked books, a lamp and a few other treasures on it, but I was looking for something to put on top of the books when I stumbled upon this on the clearance aisle: (always check there first!!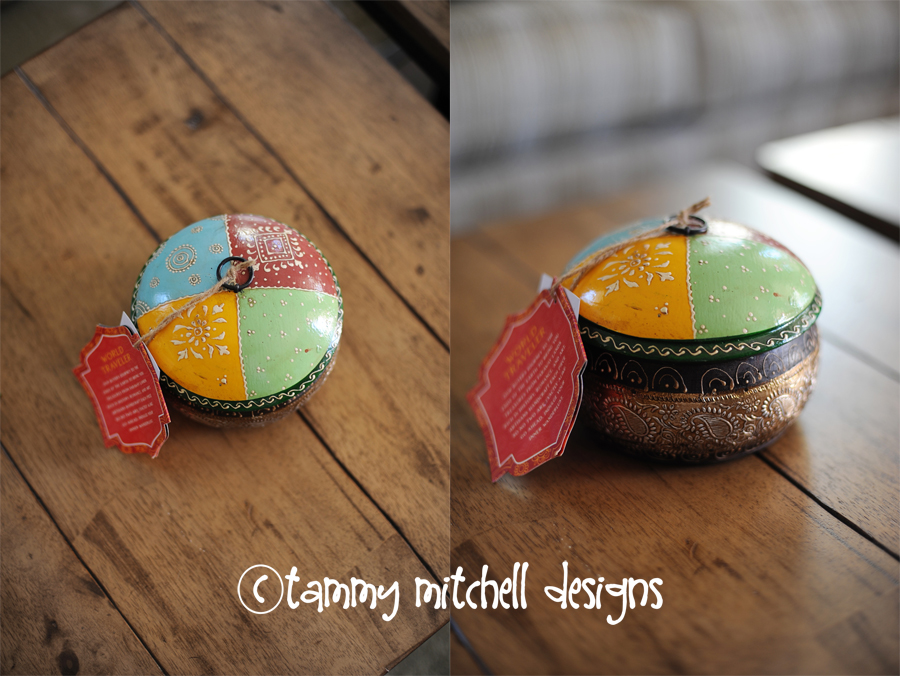 I am working REALLY hard to modernize my space, bring in more color and up the whimsy and funk just a bit. 

  This didn't really fit with my vision though, and I passed it up at first.   As I worked my way around the store I was really looking for something to balance all the metal and mirror in that space.  I knew I didn't want any more metal, and nothing ceramic was really calling my name.  It was on the second trip down the clearance aisle that I stopped and took the lid off of the little container.  Whoa!  It was perfect!

  The wood…minus the funky colored top was just what I was looking for!  It changed the whole look of the piece.  I came home and turned it into this: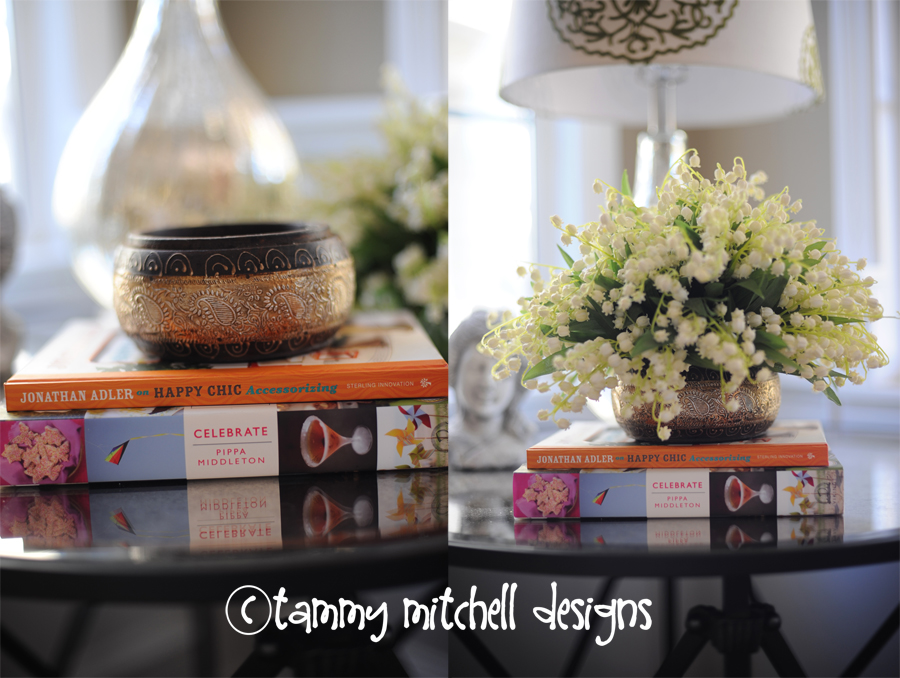 What do you think?  A little styrofoam and some floral stems that I jammed into it and ta-da!  I just want to encourage you to look at everything with more than one purpose in mind.   What was designed to be a little box to hold treasures can also be turned into an awesome vase for a floral arrangement.

  I love the way the rustic carved wood looks on the modern table.  So fun!  I hope you are feeling inspired! 
Have a great day!
tammy