After we visited the USS Iowa back in May, we headed down PCH to Naples to try a pizza place that John had been reading about, Michael's Pizzeria.  It was about 4pm when we stopped by and we were STARVING!  Definitely ready for some lunner.  😉  Now, you have to know that we LOVE pizza.  I mean LOVE it.  It is one of our favorite quests in life to try and find the best pizza around.  Napoli style, thin crust, wood fired is our pizza of choice.  In order to keep the playing field even, I always order the same thing and so does John…everywhere we go.  He gets a Margherita and I get a Pepperoni and Mushroom.
Because we were there at an "in between" time, we were the only people in the place, but I have no doubt that this place is hopping with a line out the door during peak lunch/dinner times.  It's got a hip, modern vibe.  Very clean, minimalist, marble, black and white with pops of orange.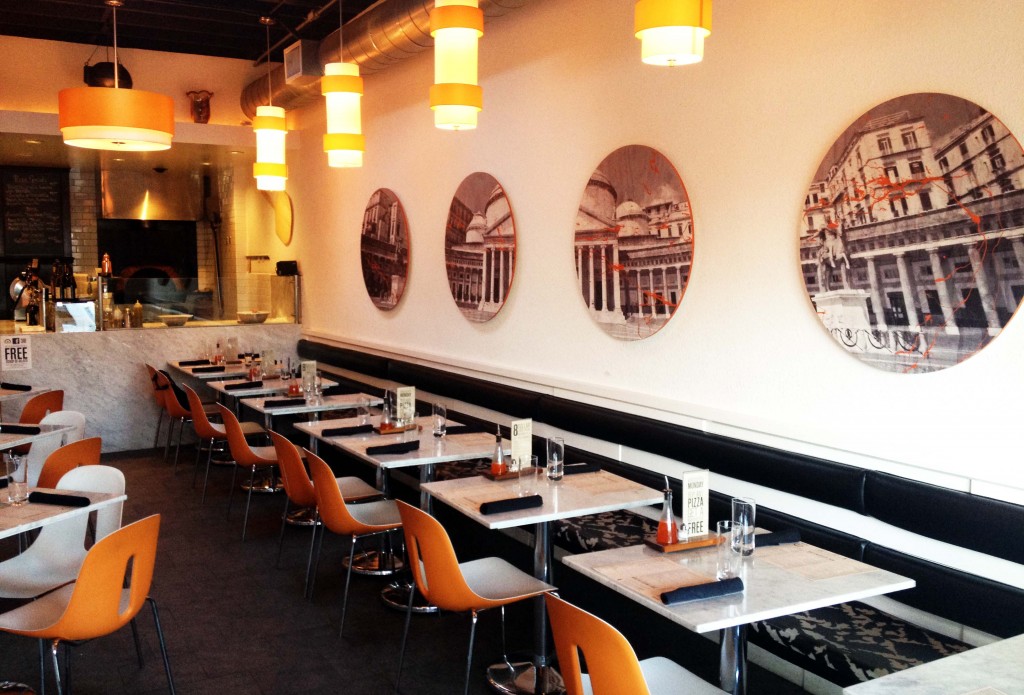 We got to sit right next to the kitchen and watch our pies being prepared and fired.  The kids were in heaven.  I could tell that the chef truly treated his creations as works of art.  I watched as he placed each pie in the wood burning oven and then picked them back up, turning and moving each part of each pizza closer to the fire, one at a time, turning each one carefully so that the crust was evenly cooked all around.  They were beautiful!  I feel like describing them as works of art because that's what they looked like!

  Did I mention I was starving? 😉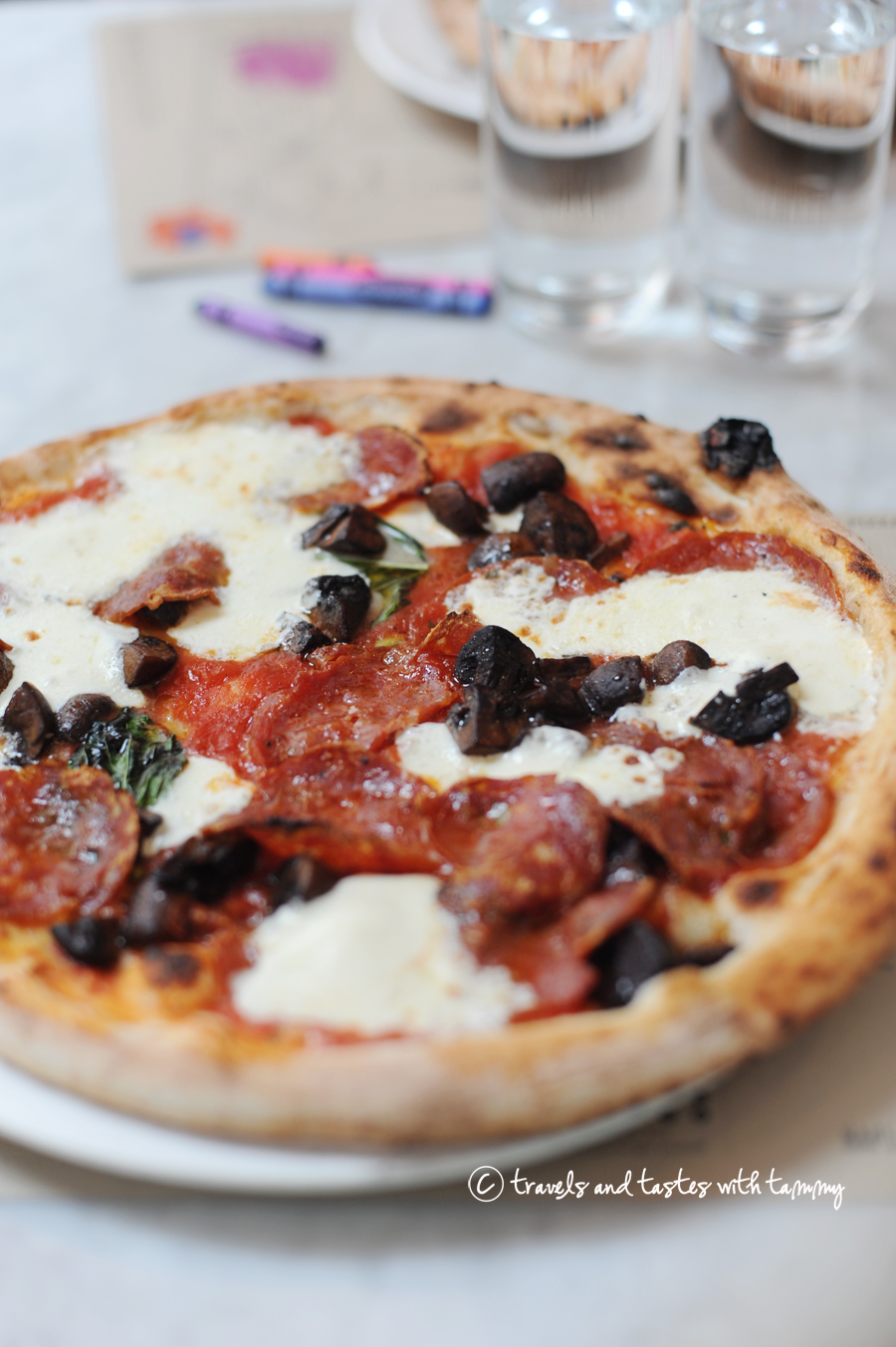 Remember, I've tried a LOT…I mean TONS of pizzas.  Well, let me tell you, this was quite possibly the best pizza I will ever eat in my life.  I'm not joking.  It was amazing.  And, yes, I know this is pretty much the same picture, but I'm going to post it anyways…because I want you to want this pizza as much as I do right now. 😉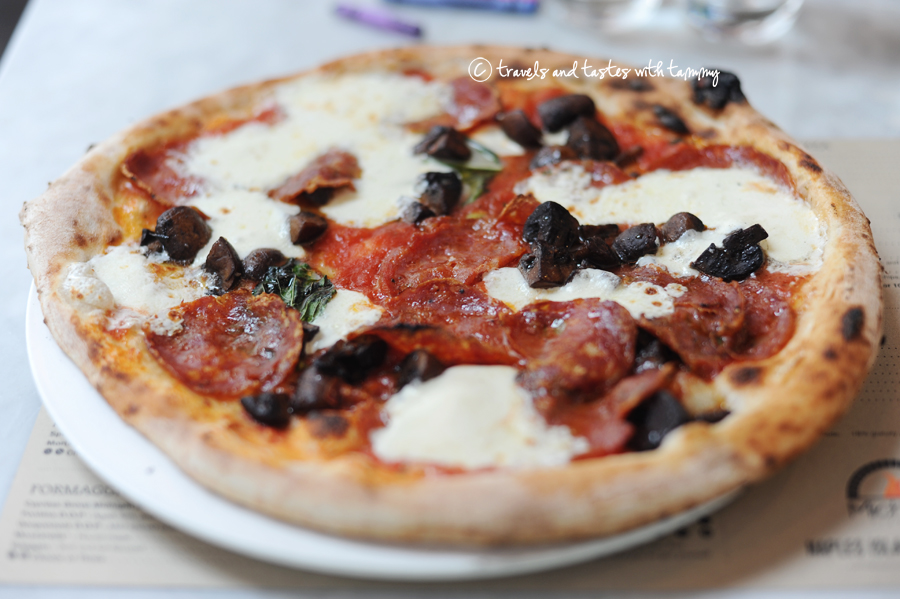 The service was great…friendly people.  The shirts are cute…yes I made John buy one simply because it says "take an Italian home." and well, I'm Italian. 😉  Everything is handmade here.  We're talking sauce, crust, mozzarella, sausages…everything, daily.  They grown all their own herbs and tomatoes.  Slice all their meats fresh for your pie.  You can taste every ounce of that freshness and handmade goodness.  It is exquisite!
Good news is they are expanding.  You can find them in Rancho Mirage now too, and we asked about OC while we were there and they said they're coming!  WooHoo!  But I'm not waiting.  It is worth the drive to LB any day!  You can find their locations here: MICHAEL'S PIZZERIA LOCATIONS
happy eating!

tam and fam